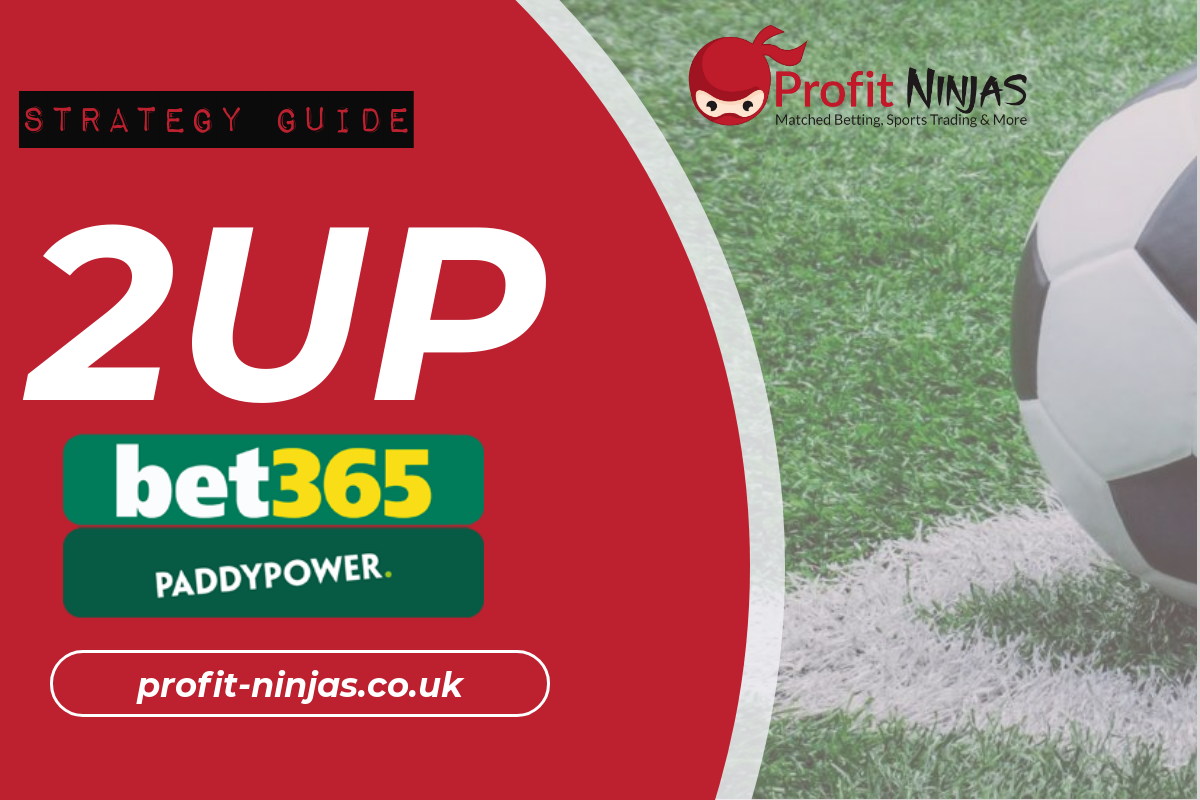 All at Profit-Ninjas are glad to report that THE BEST matched betting offer of last season is BACK 😀  Bet365 have confirmed the return of their 2UP offer (until the end of August at least at time of writing) so we thought it best to provide our members with a guide on how best to approach this offer.
EDIT:  Paddy Power now also confirmed until 1st Jan 2020 – Max Payout per match £2500
For those unaware of what the 2UP offer is then lets explain.
Place a pre-match bet on the Full Time result for matches in selected leagues/cups and if the team you back to win goes 2 goals ahead at any stage during the match, the bookmaker will pay out your bet in full regardless of whether the opposition comes back to draw or win the match.
As a Matched Bettor we try and profit from this by finding a close match and placing our back and lay bets using normal mode in the calculator.  Accept a small QL (qualifying loss) and hope our selected team takes a 2 goal lead (2-0, 3-1, 4-2 …) in the match before deciding what action to take.
For relative newbies to matched betting this offer can give your profits a large boost if you can hit a full turnaround (your team takes a 2 goal lead but does not win the match) and for the more experienced and with a larger bankroll the profits can be 4 figures from just one full turnaround with only a small QL
A full turnaround with no action taken would result in both your Back bet at the bookmaker AND your Lay bet at the exchange winning.  See an example below
We place a Back bet of £200 on Team A to win their match at Bet365 with Odds 4.5
We lay Team A to win their match at the exchange at odds 4.6
As shown in the image below our QL for this is £4.34 or £4.35 depending on the result of the match (@2.2% of our Back stake)

Our maximum profit if our team were to take a 2 goal lead and not win the match would be;
Bookmaker has paid out our bet as a winner as our team had a 2 goal lead at some point in the match = +£700
Our exchange lay also wins as our team did not win the match = +£195.65
Overall profit = £700 + £195.65 = £895.65 for just a £4.35 QL
Admittedly the chances of a full turnaround are not as common as we would like but providing we keep our qualifying loss low (max 3% loss on back stake) we would only need (using the above example)  1 turnaround every 200 matches to show a profit
The guide below will take you through this offer in more detail and offer advice and possible options to take if your team does take a 2 goal lead
Terms To Note:
Min Odds:  There are no

Minimum odds

for this offer
Min Stake:  There is no Minimum stake for this offer
Max Stake:  There is no maximum stake for this offer with Bet365.  Paddy Power have a max payout cap of £2500
Markets:  Match Odds only
Matches:  Selected leagues and cups only
Terms: Bet365 Terms,  Paddy Power terms
Find a close match (min 97% rated on OddsMatcher)
Place your back bet at the bookmaker
Lay using normal mode in the standard calculator
Once you have placed the above bets you then have no other decisions to make until your team takes a 2 goal lead in the match.  If your team does not take a 2 goal lead then you accept the small qualifying loss.
If your team takes a 2 goal lead then you have a decision to make
Do not pick heavy odds on favourites if you wih to trade out.  If they take a 2 goal lead the odds to trade out will be far too low.  If trading out then we advise odds 1.7+
Options If Your Team Goes 2 Goals UP
Do Nothing and Pray for a comeback
Yes, the easiest option is to do nothing at all and hope that your team goes on to either draw or lose the match for a BIG payout – this is our preferred option
Trade Out immediately
As your team has gone 2 goals up and the bookmaker has already paid out your winnings you can now loo to reduce your potential loss at the exchange and lock in a small profit.
If you have no other bets at the exchange on this match you can simply cash out (Betfair and Smarkets off this).
If you have other bets on this match at the exchange we recommend using the Early payout calculator on OddsMonkey here
Depending on the time your team takes a 2 goal lead will affect the small profit if you choose this option.  If your team goes 2 goals up late in the game then you may only be able to cash out and reduce your QL or scratch (have 0 QL).
If your team takes a 2 goal lead early in the match then you will be able to lock in a greater profit as there is a lot more time for the possible comeback
Wait for Opposition Goal(s)
The final option we have is to wait and hope for a goal (or 2) from the opposition to reduce the lead to just one goal or even draw level.  Generally, if this were to happen, it would result in a greater profit than the Trade Out Immediately option but you would need to accept the QL if the goal(s) did not arrive
Once the lead is just 1 goal (or level) you would use the cash out feature at the exchange (Betfair and Smarkets) only if you have no other bets on this match from other matched betting offers!!
If you have other bets on this match at the exchange we recommend using the Early payout calculator on OddsMonkey here